As the current circumstances have led many of us Brits to enjoy the sites of England this year rather than jetting off to our favourite sunny destinations, it means that we're going to be seeing more and more caravans on the roads. Caravans are a great way of seeing the beautiful and picturesque locations of our wonderful country, so it's no surprise that many of us have planned a staycation to stay safe while enjoying our time off. Whether you have taken caravan towing courses in Milton Keynes and just passed your test, or haven't taken your caravan out on the road for some time, we have pieced together a few caravans towing tips to keep in mind when planning a UK holiday.
Caravan Towing Tips To Stay Safe On The Roads
Whether you have a caravan or trailer and have planned a relaxing summer holiday in the UK, it is essential to make sure that you keep your vehicle safe at all times. From the way that you drive your caravan to the safety checks you make before setting off, there is a lot that goes into remaining safe on the roads. This is something that is taught during your caravan driver training, such as how to attach a trailer to your vehicle and manoeuvre safely. To make sure that you have a smooth holiday and don't encounter any possible dangers, here is our guide on caravan towing: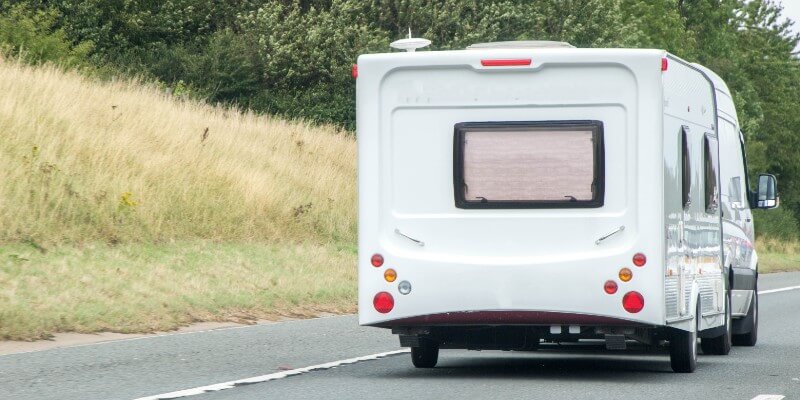 As is the case for any journey, whether it's with a caravan or in your everyday vehicle, it is always important to make sure that you have completed checks. These checks help to highlight any issues that you may have with your vehicle, of which you will need to repair before heading off. It is also essential to minimise the chances of breaking down on your way to your holiday destination. As mentioned previously, all pre-checks for your caravan will be addressed during your caravan training, so you should already be familiar with many of those in the check list below:
Secure towbar
Check wheels
Check tyre pressure
Test brakes
Check lights
Check suspension
Fit extension mirrors
Check number plate is on towing car
Clean the coupling
Check hitch and towbar
Isolate mains electric
Drain water system
Disconnect water pump
Disconnect mains cables
Double check your insurance and breakdown cover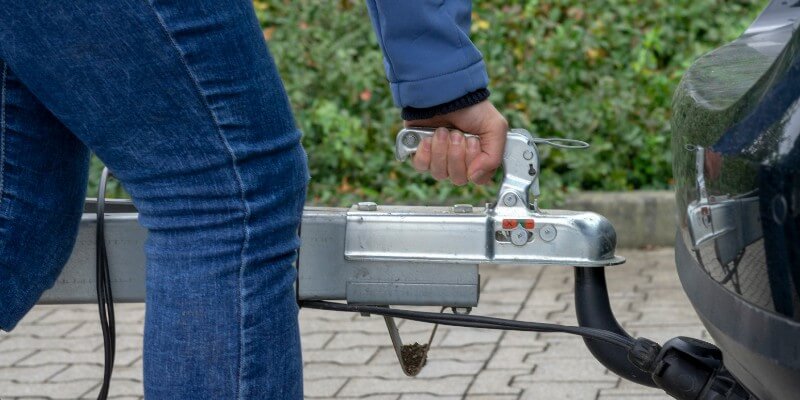 Towbar Preparation
First thing is first, you need to make sure that your vehicle is ready for towing the caravan, which means finding a car that can withstand the weight of your caravan. Small vehicles are not ideal as they will not be able to safely tow the caravan, or you may struggle to tow the trailer if your car's engine isn't strong enough. For this reason, if you plan on purchasing yourself a caravan and taking yourself on many UK holidays, we would highly recommend investing in a large and powerful vehicle. To lend you a helping hand with this, Practical Caravan has a handy article on how to choose a good tow car, which we recommend taking a look at before purchasing your caravan as the vehicle you purchase may determine the size of your caravan.
Once you have the perfect car for the job, you will need to prepare the caravan by attaching the towbar; you will learn how to do this during your training. It is important to note that not all vehicles are the same, and newer cars have complex electrical systems, so if you are unsure how to connect electrics, you may need to ask a professional. The electrical system on your caravan is important as it connects your brake lights and indicators, so while people may not be able to see your vehicle, they can anticipate your actions. The electrics in new vehicles means that this can cut reverse sensors, for example, when connecting the caravan. You can find a handy video on how to connect your towbar below.
Checking Your Wheels & Tyres
As they are a fundamental part of road safety, it is vital that you check your wheels before heading out on a journey. This involves checking your tyres for gashes or cracking that could potentially cause danger when on the road. If you do find that there are problems with your wheels, then you must book your vehicle in for repairs before starting your journey. Additionally to this, you will also need to check your tyre pressure, and make sure that the tread depth is 1.6mm. To check your tyre pressure, follow this simple guide:
Firstly, check your handbook to see what pressure your tyres should be. If you have lost your handbook, then you should able to find out by searching your vehicle make and model online.
Purchase a pressure gauge before completing this task. You can easily find this in stores such as Halfords at a relatively low price.
Begin by removing the valve dust cap from the tyre and placing your pressure gauge onto the valve stem. To get an accurate reading, make sure you press down.
Check the pressure gauge and use the guide in your handbook to determine whether you will need to deflate or inflate the tyres.
If the tyres require deflating, then you can do this by using the tip of a flat-head screwdriver and pushing on the metal pin to release air.
On the other hand, if you need to inflate your tyres, then you can either purchase a suitable pump, or head over to your local petrol station that should have a pressure pump you can use.
In some cases, if your vehicle has been left for several years in the same spot, your tyres will require a replacement to maintain safety.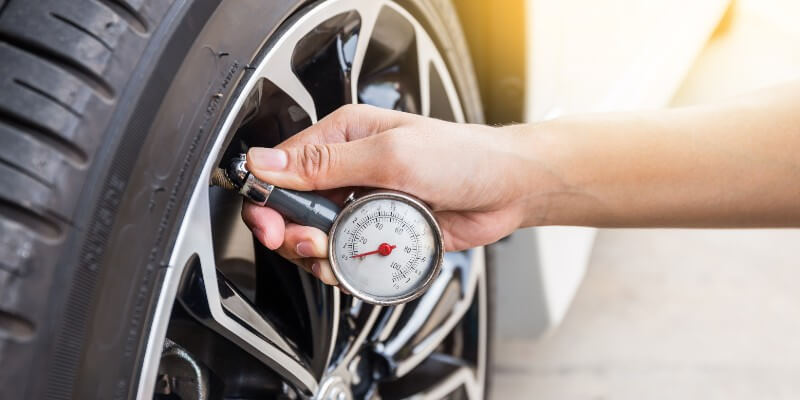 The key thing to remember when it comes to driving your caravan is that you would not have been able to pass your trailer training if you were not capable of driving the vehicles. However, we know that it can be daunting to head out onto the roads for the first time on your own, so here are some handy driving tips to keep in mind while on your adventures.
Packing The Caravan
While it's not necessarily a tip for driving, it can help with the safety of your caravan when on the road. If you do not pack your caravan correctly, then you can find it pulling to one side, making it extremely dangerous. A caravan needs to be packed with weight distribution in mind; this means putting your gear, food and clothing in the back of the caravan to make sure that it does not weight too much on the back or front. When packing ready for your holiday, make sure that you have a checklist to ensure that you have all the big items and all your small essentials such as toothpaste. Place your items in order of weight onto your list, starting with the heaviest and ending with the lightest; this will help when packing. You will need to put the heaviest item in the centre of the caravan, where the wheels are. Then, medium items should be placed evenly at the front and back of the caravan.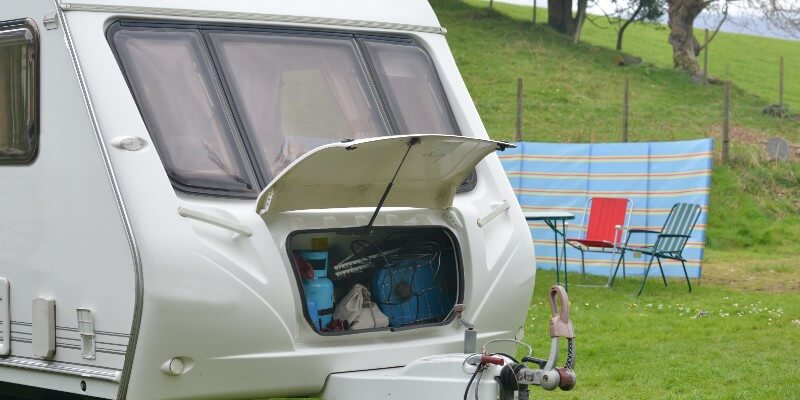 Speed Limits
Much like larger vehicles such as lorries, caravans and trailers are not safely capable of going as fast as you may be used to in your everyday vehicle. This means that you should be going 10mph less than the national speed limit. For example, you will need to drive 50mph on a 60mph single carriageway and 60mph on a 70mph dual carriageway or motorway. You can find out more about speed limits over on the government website.
Careful When Taking Corners
As your vehicle will have a lot of weight and the trailer will be attached to your car, there is a chance that the caravan will sway when going around corners. Due to this, it means that you will need to take extra care when going around bends and roundabouts, making sure that you do not go too fast and give yourself enough room. Unlike driving in your everyday vehicle, going around bends can be tricky, as you will need to make sure that the trailer also makes it around the corner without going up onto the kerb. Having a sat nav will help you to identify when there is a tight bend coming up, helping you to slow down and prepare for the tight corner. It may also be wise to have a sticker on the back of your caravan to inform those behind you that you may slow down for corners and to be wary of the trailer when overtaking.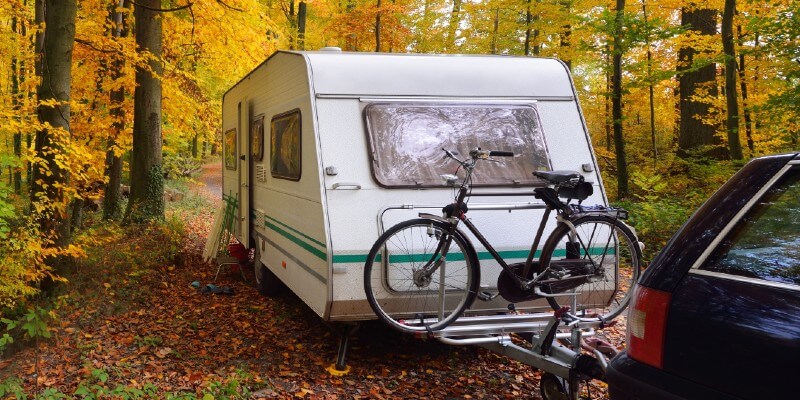 Whether it is to help you drive safely or to keep you safe in emergencies, there are few accessories that you should consider purchasing before your journey. Some of these accessories include the following:
Sat nav
Licence and registration
Car and caravan manuals
Spare tyre

Putting Safety First

It is always important that safety remains at the forefront of your journey, meaning that you should always have the appropriate licence to tow a trailer or caravan as well as the essential equipment. If you are yet to gain your B+E training licence, then please feel free to contact the team. We provide training to help develop your skills and confidence, ensuring that not only do you know how to safely drive with a trailer, but also feel confident once you have passed your test.