The Benefits
Being your own boss is one of the many benefits of becoming a driving trainer/ instructor. Regardless of whether you choose to work independently or become a part of a franchise, you can work to your own terms and manage yourself.
Other benefits include;
Being your own boss.
Choose your working hours and take the days you want off.
Work can revolve around any commitments e.g. family, children, secondary job, hobbies plus more.
Earning potential up to £50,000 per annum.
Diverse work, every lesson you give will be different.
Meeting new people daily.
Career development, you can gain extra knowledge and qualifications after becoming an ADI to teach advanced driver training, including fleet, taxi, commercial, ambulance and more.
Seeing your pupils pass their driving tests and creating safe drivers for life brings great job satisfaction.
How to become a driving instructor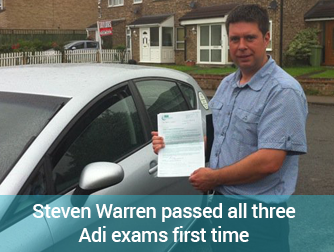 You must be willing to work hard to become a driving instructor. The process isn't easy and many PDI's don't realise the effort which is needed to pursue a career in driver training. However with the right training and determination, there will be a high chance that you will pass.
You will need to pass three separate exams to qualify as an ADI. After you have passed your part one test (theory) you will have two years to complete the qualification.
It is attainable to be passed in around three months, however trainees often have existing jobs, which means training can take 6-12 months.
The three exams are as follows:
Requirements
If you want to become a driving instructor, you must meet the following criteria:
Be over 21 years old.
Have held a UK manual driving licence for a minimum of 3 years. Upon qualifying, you should have a minimum of 4 years road experience.
You must not have received a driving ban or disqualification in the last 4 years.
Have a maximum of 6 points on your licence.
Be of good health and fitness. (If you are unsure about this, you should ask when making an application).
You need to pass a DBS check and complete further checks every 4 years to stay on the ADI register.
Passing a Criminal Records/ DBS Check
If you have an offence on your criminal record, passing a DBS check to become a driving instructor will depend on a few factors:
The severity of the offence.
When the offence took place.
If the conviction or offence has relevance.
Is there a pattern of re-offending.
The personal or exceptional circumstances associated to the offence. Whether there are other explanations or any defence on your part.
Your circumstances will come into consideration when you apply to become a driving instructor and have a criminal record. If you have been involved in particularly violent offences or offences of a sexual nature, your application is likely to be unsuccessful. This is the same if your name has been or is on the register of 'sex offenders'.
Disabilities
You can become an ADI if you have a disability. You can apply through the normal process, as long as you have an unrestricted driving licence. If you hold a licence limited to automatic vehicles, you will be prohibited from teaching in a manual vehicle. Before considering your application, the DVSA will require you to take an 'emergency control assessment' which judges your competence at taking control of the vehicle from the passenger seat should there be an emergency.
How much everything costs
Generally, national driving schools charge somewhere between £2500-4000 with no pass guarantees.
Here at at Pure Driving, our pricing and packages vary depending on what stage of training you are at. We train beginners to completion and also train those who have trained and failed their exams elsewhere.